Trast vydal sborníček příspěvků ze semináře "Transborder Laboratory from Below", který proběhl v září loňského roku v Brně. Na semináři i publikaci jsme úzce spolupracovali s vídeňským Institutem pro studia v politické ekonomii.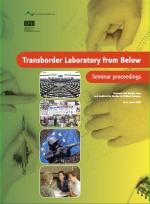 Joachim Becher, Rudy Weissenthaler, Stanislav Kutáček (Eds.) Transborder Laboratory from Below. Seminar proceedings. Brno, June 2008. ISBN 978-80-904-148-2-2. (anglicky)
Tištěnou verzi diskusního sešitu je možné objednat zde. Cena pro jednotlivce je 50,- Kč, pro instituce 250,- Kč (poštovné a balné min. 25,- Kč podle počtu kusů).
Elektronickou verzi je možné stáhnout zdarma zde [download id="542″].
About
This paper is from the seminar "Transborder Laboratory from Below". The seminar has been called laboratory because of its experimental character. Four co-operation partners from different backgrounds invite critical social researchers and grassroots activists (i.e. development cooperation, anti-globalists, Central- and Eastern European political activists) to participate in a joint discussion and learning process. The goals of the seminar were dissemination of knowledge, an exchange between university and activist experience, and discussions on prospects of trans-border co-operations.
Contents:
* WTO: CONFLICTIVE NORM SETTING BETWEEN MULTILATERAL AGREEMENTS AND BILATERALISM – THE CASE OF SERVICES | Werner Raza (Austrian Chamber of Labour and Vienna University of Economics and Business Administration)
* HOW DOES WTO CIRCUMVENT THE HUMAN RIGHTS, HEALTHCARE, AND ECOLOGICAL NORMS OF THE UNITED NATIONS? | Matyas Benyik (ATTAC Hungary)
* EU CONSTITUTIONAL TREATY: TOWARDS A DEMOCRATIC EU OR CAMOUFLAGE FOR ACQUIS COMMUNAUTAIRE, MAASTRICHT TREATY, AND MILITARY AMBITIONS? | Gerald Oberansmayr (Werkstatt Frieden & Solidarität, Linz/Austria)
* BORDERS IN NEW REGIONAL SPACES: INSIGHTS FROM CENTROPE IN CENTRAL EUROPE AND ABC REGION IN BRAZIL | Daniela Coimbra de Souza (Vienna University of Economics and Business Administration/Demologos) Andreas Novy (Paulo Freire Center, Vienna University of Economics and Business Administration)
* THE PROTECTION OF SOCIAL RIGHTS | Jan Kratochvíl (Human Rights League, Brno)
* SOCIAL MOVEMENTS AND CONTENTION: AN EXPLORATION OF THE IMPLICATIONS OF DIACHRONIC AND SYNCHRONIC CHANGE | Len Arthur, Tom Keenoy, Molly Scott Cato, Russell Smith (Wales Institute for Research into Cooperatives, Cardiff School of Management, UWIC)
* FLOOD OF FDI IN CEE REGION | Pavel Franc (Environmental Law Service, Brno, Czech Republic)
* EXPERIENCES AND PERSPECTIVES OF ALLIANCES FROM BELOW | Milan Šebo (CEPA – Friends of the Earth Slovakia, Bratislava)